If you're an avid Facebook Messenger user, you must be familiar with the 'Chat Bubble' or 'Chat Head'. This feature allows you to keep a conversation open while you are using other apps and features of your smartphone.
But there are complaints of FB Messenger chat head not working on Android. They came from frustrated users who are multitasking and want to respond quickly to messages even when they are busy with something else. 
In this article, we'll go over the various reasons why this issue occurs on your Android device. We will also provide step-by-step instructions on how to fix it. Whether it's a simple settings adjustment or a more complex troubleshooting process, we've got you covered.
What is Facebook Messenger?
Facebook Messenger is a powerful messaging app that allows you to send text messages, and make phone and video calls. It also enables you to share photos and videos, and play games with your friends. 
One of the app's key features is its integration with the main Facebook platform. Users would find it convenient for messaging their Facebook friends without having to switch between apps.
As of 2021, Facebook Messenger has over 1.3 billion active monthly users, making it one of the most widely used messaging apps in the world. This number continues to grow as more and more people turn to the app to stay in touch with friends and family, conduct business, and even make payments.
Other FB Messenger's Outstanding Features
In addition to messaging, Facebook Messenger provides high-quality local and international phone and video calls. This is particularly useful for staying in touch with loved ones who live far away. It is also convenient for conducting business calls.
Another useful feature of Facebook Messenger is the ability to form group chats. Multiple users can be in the loop and carry on fun and engaging conversations. This feature is handy for organizing events, keeping in touch with family and friends, or doing group projects.
What is Messenger Chat Heads?
Facebook Messenger Chat Heads, is a feature that allows users to keep a conversation going while using other apps on their device. 
Chat Heads are small circular icons that appear on the screen, displaying the profile picture of the person you're talking to. It will appear on your screen when you receive a message, allowing you to quickly open the conversation without having to switch back to the Facebook Messenger app.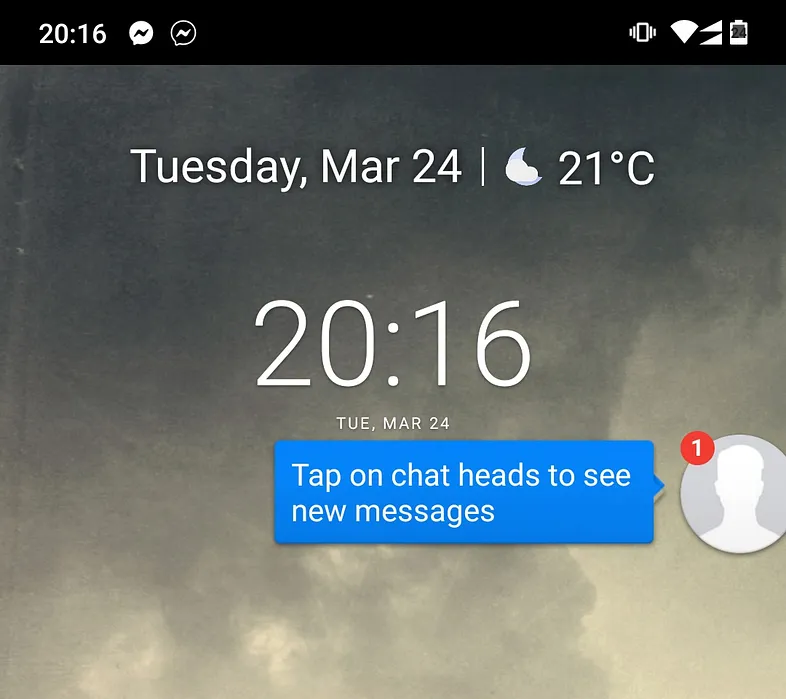 In other words, this feature allows you to multitask while having a conversation. You can continue chatting with someone without interrupting other smartphone activities like browsing websites or watching online videos. 
You can move the Chat Head around the screen, pin it to a specific location, or dismiss it with a simple swipe. It enables you to see right away when a new message arrives. You can continue with the conversation without leaving a currently running app just by tapping it.
Do Chat Heads Still Exist?
Chat Heads in their original form no longer exist on updated Android smartphones. With the release of Android 11 (Red Velvet Cake), Chat Heads within Messenger was changed to Chat Bubbles. Messenger version 268.0.0.3.118 (beta) was the first to introduce this change. 
Chat Bubbles is an Android feature that Google built to work with its Messaging app. Google encouraged developers to test and use Bubble's API. While it was designed to work much like the original Chat Heads feature, it seems to need some improvements.
Many Android users strongly dislike the change to Bubbles and would prefer to return to Chat Heads. Unfortunately, the change seems permanent. We are now on Android 13, and there is still no sign that Facebook will be reintroducing Chat Heads. 
Why is Messenger Chat Head Not Working on Android?
Or, for a more up-to-date question, what causes Messenger Chat Bubbles to disappear?
If you are used to seeing chat bubbles popping up, you would wonder when they no longer appear. You may miss out on timely messages from friends and family because nothing prompts you to check your Messenger app right away. 
Chat bubbles make it convenient to keep up with a Messenger conversation while you are using other apps on your Android device. 
Thankfully most of the things that cause the Messenger Chat Bubbles not to appear on your smartphone are straightforward and easy-to-fix issues: 
The Chat Heads feature is not enabled – You may need to activate the Chat Head or Chat Bubble in Facebook Messenger's settings before they begin appearing on your Android device. 
The Messenger app is not running – Chat heads will not automatically appear if the app is closed. You'll need to start the app and let it run in the background.
The device's Battery Saver mode is on – Some devices have a Battery Saver mode that can disable certain features, such as Chat Bubbles. This is to conserve battery and keep the phone working longer without recharging.
A problematic software update – A recent update to the app or the device's operating system may affect the functionality of the Chat Bubbles feature.
The device is low on resources – If your device is running low on resources, this may cause the Chat Bubbles to disappear or not show.
How to Fix the Messenger Chat Head Not Working or the Chat Bubble Not Showing Up?
Now that we know some of the most common causes of this issue, we can proceed to apply the troubleshooting steps below.
1. Restart Messenger
The first step to solving the missing Chat Bubbles issue is to restart the Facebook Messenger app. To do this on Android, follow these general steps:
Go to the Home screen of your device.
Swipe up and hold to open the App Viewer. Then swipe back and forth until you locate Messenger.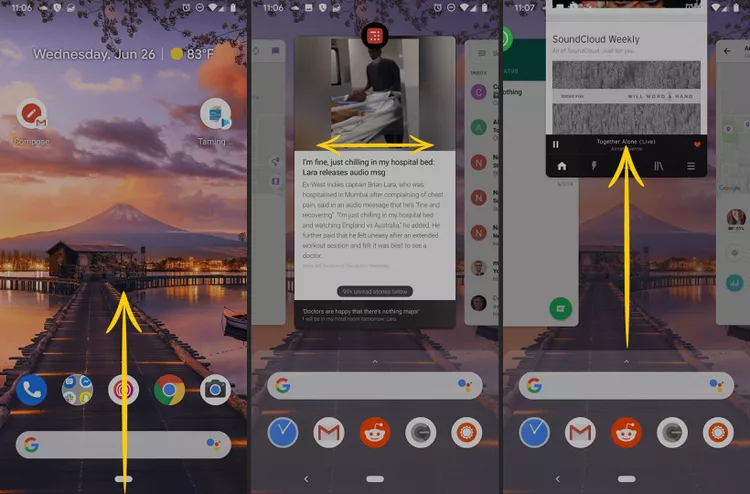 Now swipe up to close the Facebook Messenger app.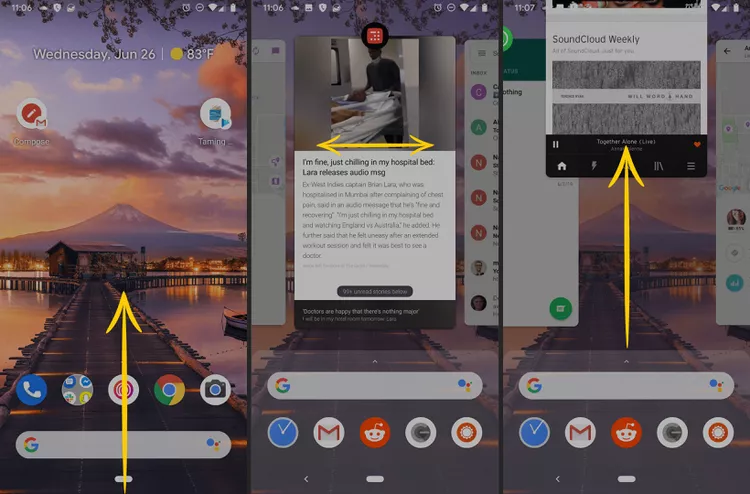 Reopen the Messenger app from the app drawer or the home screen. Wait until someone messages you to see if the bubbles are restored. 
Note: Samsung devices use the Recent Apps button to access the list of recently opened apps. This button is usually located to the left of the Home Button.
2. Check for Updates
Most people have their devices set to install new updates automatically. However, if your automatic update is disabled, you must update your apps through the Google Play Store app manually. 
An outdated Facebook Messenger app can be the reason why Chat Heads or Chat Bubbles are not working. Here are the steps to remedy the issue:
Open the Google Play Store app on your Android device.
Tap on the hamburger menu (three horizontal lines) in the top left corner of the screen or the Profile icon in the right-hand corner. This depends on your specific version of Android and your smartphone manufacturer. 
Tap on My apps & games or Manage apps & device.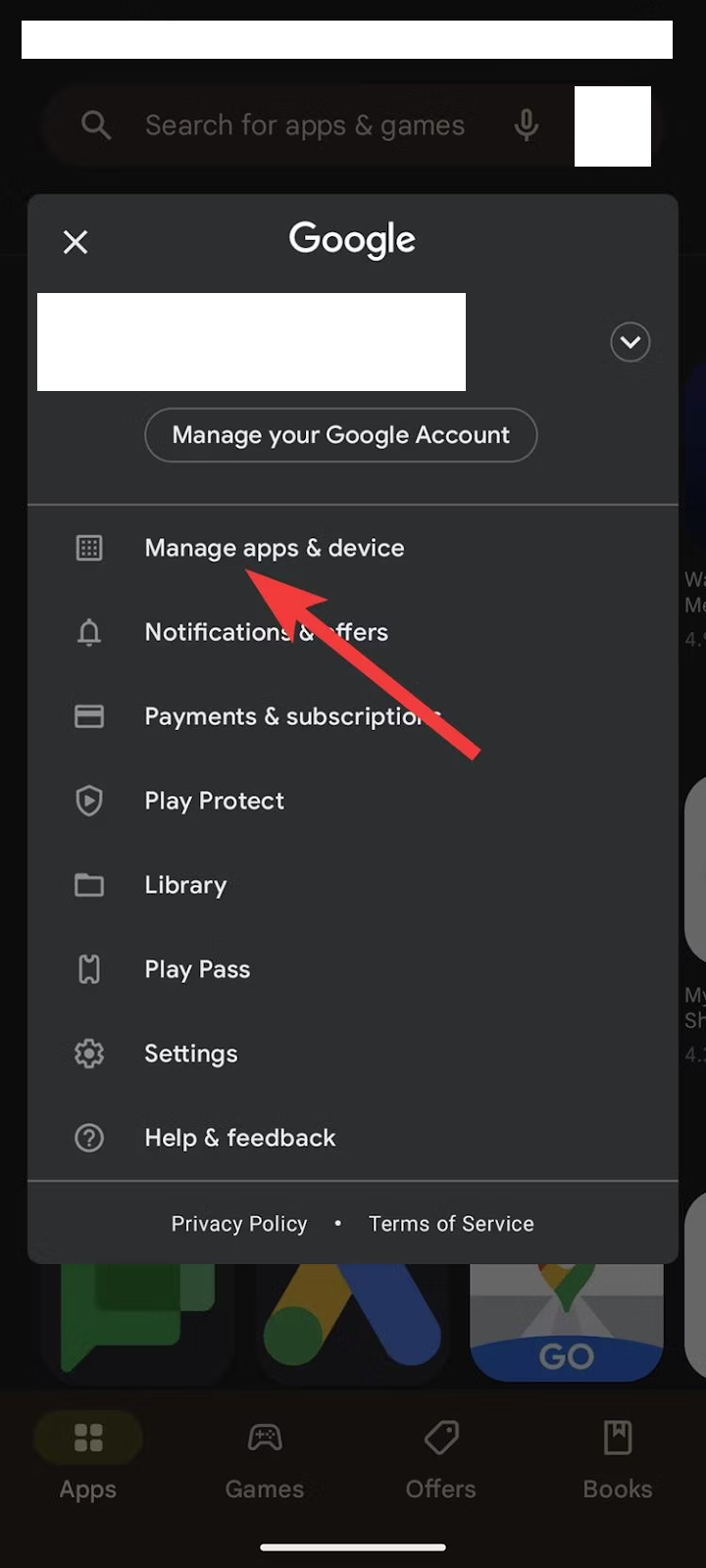 Look for Messenger in the list of installed apps and check if an update is available.

If an update is available, tap on Update next to the listing for Messenger. Wait for the update to download and install.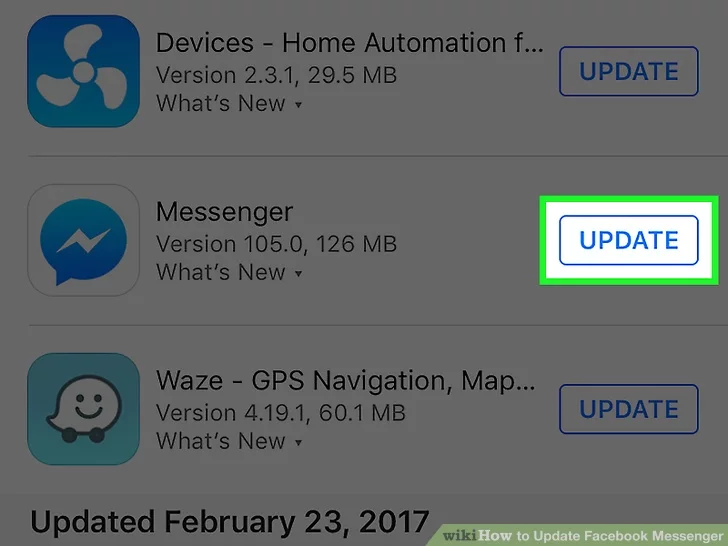 After completing the installation, open Messenger to start using the updated version. Once you receive a new message, you can check if it appears as a Chat Head or Bubble. 
3. Verify if Chat Heads or Bubbles Are Enabled
If your Chat Bubbles aren't working, they might be disabled within the Messenger app. Follow these steps to verify and fix:
Navigate to your phone's Settings page and click Apps and Notifications. Then select See all apps (if this option is available otherwise, proceed to the next step.)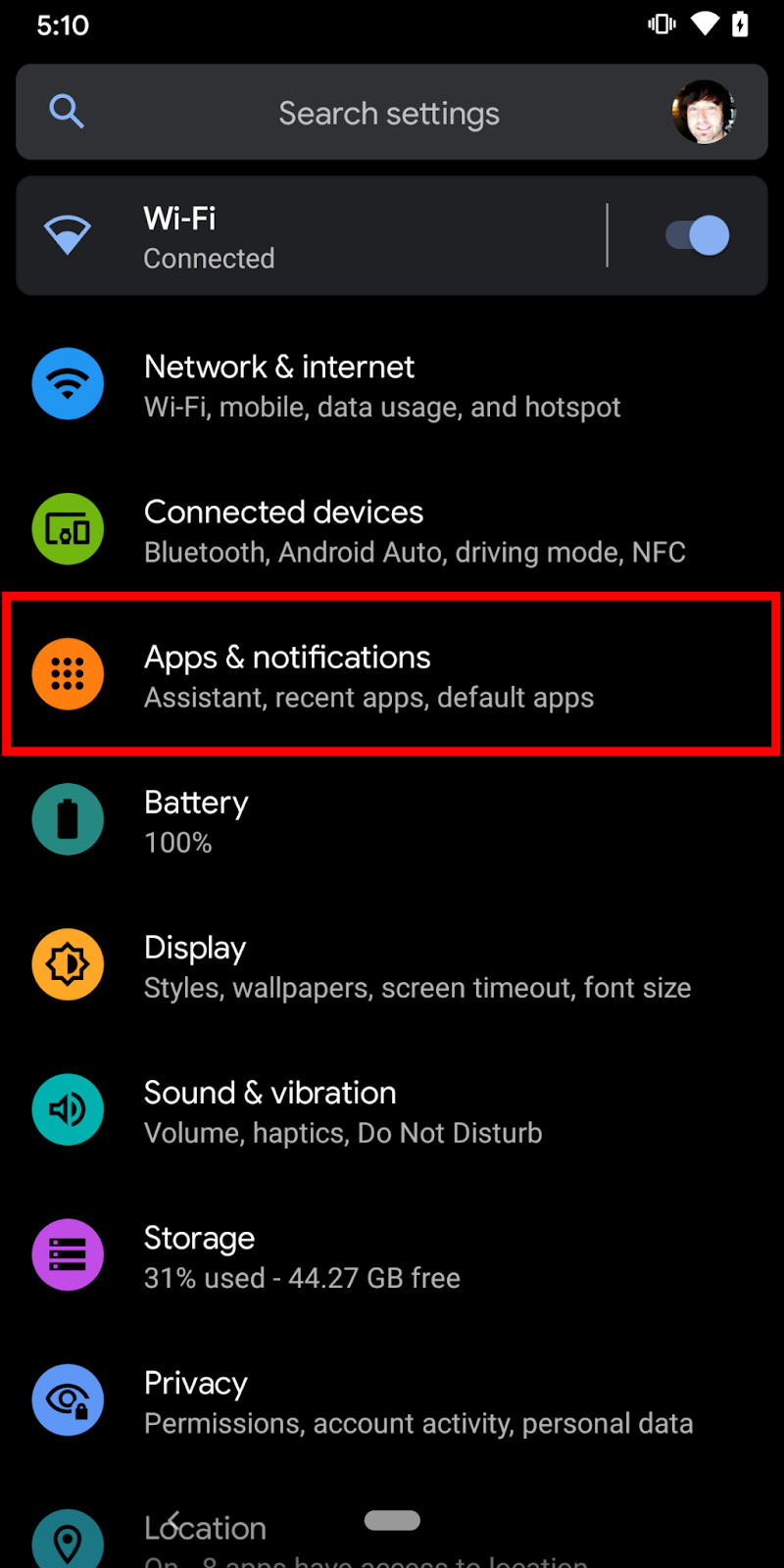 Scroll through the list of apps until you locate Messenger, and then tap to select. 

From the Facebook Messenger Settings page, find the Notifications section and then look for Bubbles or Chat Bubbles. If Bubbles says "Nothing can bubble", then the feature is disabled. 
Tap on Bubbles and then select All conversations can bubble to enable this feature. 
4. Check Permissions
Even if Chat Bubbles are enabled, it still needs proper permission to appear on top of your other applications. To allow it to do so, follow these step-by-step directions:
Navigate to your Settings then use the Search bar at the top of the page. Then, search for display over other apps. 
Click Display over other apps and then select Messenger from the list of applications. 

Now you can toggle on Allow display over other apps.
5. Turn off Battery Saver
If your Chat Bubbles work intermittently, the Battery Saver mode might be interfering with its normal function. When your battery level reaches a certain threshold, Battery Saver will restrict the action of certain apps and features. 
You can turn off Battery Saver mode by following these steps:
Open the Settings app on your Android device.
Scroll down and tap on Battery or Battery Saver.
Toggle off the switch next to Battery Saver or Turn on automatically.
If the switch is grayed out, go to Battery optimization and select All apps.
Locate Facebook Messenger and tap on it. Then choose Don't optimize or No restrictions, so Battery Saver won't interfere with the Messenger app.
Now you can tap Done or Save and exit the Settings app. 
Messenger Chat Head/Chat Bubble Not Working in Android, Fixed!
When Facebook Messenger's Chat Bubbles suddenly stops appearing, it frustrates some users. Most especially those who rely on this feature to keep tabs on conversations with friends and family while using other apps. 
But come to think of it. Any trouble you encounter with your smartphone such as the camera suddenly becoming unusable can cause utter frustration. Or, even running through some trouble with a particular app, for instance, getting the "attachment unavailable" error in Messenger can turn your smile into a frown.
Several factors can cause the Messenger Chat Head or Chat Bubble not working issue. It includes the Chat Bubbles feature being disabled, the Battery Saver mode kicking in, or a problematic software update. 
To fix the issue, users can try restarting the Messenger app and checking if the app has the latest update. You may also want to turn off Battery Saver mode and check if the Chat Head or Chat Bubbles feature is enabled. You can also verify if this feature has permission to display over other apps.