Instagram Stories is one of the cool Instagram features that allow individuals to post photos and videos that will be visible for 24 hours. Despite its popularity, some IG users occasionally encounter problems such as their Instagram Stories won't upload. 
This article will explore what Instagram Stories are, along with the common issues users face and their likely causes. Most importantly, we will present possible solutions for resolving the Instagram Stories upload dilemma.
What is Instagram Stories?
Instagram Stories is a feature on the popular social media platform, introduced in 2016, that allows users to share photos and videos that automatically disappear after 24 hours. Users see these ephemeral posts at the top of their feed, which they can view by clicking on a user's profile picture, then by swiping left or right.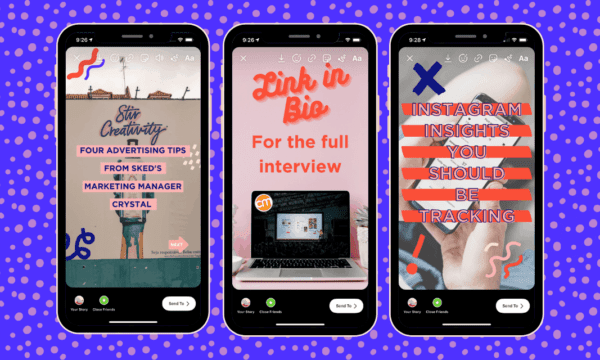 Users can edit their Instagram Stories with various filters, stickers, and text overlays. They can also add music and polls to their stories. One of its main features is enabling you to see who viewed your story. Viewers can also respond to stories with text, stickers, or direct messages.
According to Instagram, 500 million users use Instagram Stories every day. This is a significant increase from the 250 million daily users in 2017. 
Instagram stories prove to be popular with businesses, with one study finding that 60% of enterprises on the platform use Instagram stories for marketing. In addition to business and individual users, celebrities and influencers also use Instagram Stories to connect with their followers and promote products, services, and events. 
Instagram has also introduced a number of features specifically for creators. It includes the ability to add links to stories and the option to monetize through sponsored content.
Instagram Stories have become a key part of the social media platform's popularity and success. It allows users to share personal and ephemeral content in a fun and interactive way.
What Issues Do IG Users Commonly Experience with Instagram Stories?
While Instagram Stories is a very popular feature of the social media app, it is host to many known issues and glitches. One of the most commonly reported by users is that their Instagram Stories won't upload.
There have been instances where users cannot post their Stories at all, even if they can access their profile and other app features. This is frustrating and more troublesome than other issues such as being unable to send posts to Instagram groups or the DM feature not working.
Imagine spending a considerable amount of time creating and editing content only to be unable to upload it for others to see. 
Many brands and accounts rely on Instagram Stories to interact with their followers and boost their brand equity. So, it's essential to find a solution to this problem. 
Other Issues Users Report About Instagram Stories
Disappearing Stories – Users sometimes report that their Instagram Stories just vanish into thin air. This is despite properly posting them and were previously visible to their followers. This issue seems to be more prevalent on Android devices and may be caused by a bug in the app.
Incorrect Chronology of Stories – Users have also experienced issues with their Stories not being displayed in the correct chronological order. This can be frustrating for those trying to keep a cohesive narrative in their Stories, as it can disrupt the flow of their content.
Incorrect Story Views – There are also instances where the number of views displayed for a particular Story does not match the actual number of views. A bug in the app or in a third-party application that interacts with Instagram may be causing it.
Slow Loading or Buffering – Some users reported that their Stories take a long time to load or constantly buffer when they watch them. A slow internet connection or a problem with the Instagram app itself can be its root cause.
Disappearing Highlights – Some users complain that their saved Instagram Stories (known as Highlights) disappeared from their profile. This can be caused by a bug in the app or by a technical issue on Instagram's end.
Why My Instagram Stories Won't Upload?
There are several potential causes for Instagram Stories upload issues. Some of the most likely culprits include:
Account issues – If you've been banned or flagged by Instagram, it may cause issues with uploading stories.
Poor internet connection – Instagram requires a strong and stable internet connection to upload stories, so if your connection is weak or spotty, it can cause issues.
Large file size – Instagram has a file size limit for stories, so if your video or image is too large, it may not upload properly.
Incorrect file format – Instagram only allows certain file formats, so if you try to upload a file that isn't compatible, it would likely fail.
Outdated app – If you're using an outdated version of the Instagram app, it may not be able to handle new features or updates. This can cause issues with uploading stories.
Poor quality content – If your content is low quality or blurry, Instagram may have trouble uploading it, or it may be rejected by the platform.
Technical issues with Instagram – A technical problem on Instagram's end may sometimes cause the uploading of Instagram Stories to fail. In this case, you may need to wait for the platform to resolve the issue.
7 Solutions to Instagram Stories Won't Upload Issue
If you're experiencing issues with uploading Instagram Stories, you probably want to get the problem remedied ASAP so that you can share your content with your followers. 
We compiled a set of solutions that address many of the causes outlined above. 
1. Check Your Internet Connection
Make sure you have a stable internet connection. If your connection is poor, try restarting your router or moving closer to the router to improve the signal. 
You can check the strength of your internet connection directly from your Android or iPhone.Just search 'speed test' using your preferred browser app and select the RUN SPEED TEST button from within the search results or click the link for Speed Test (www.speedtest.net).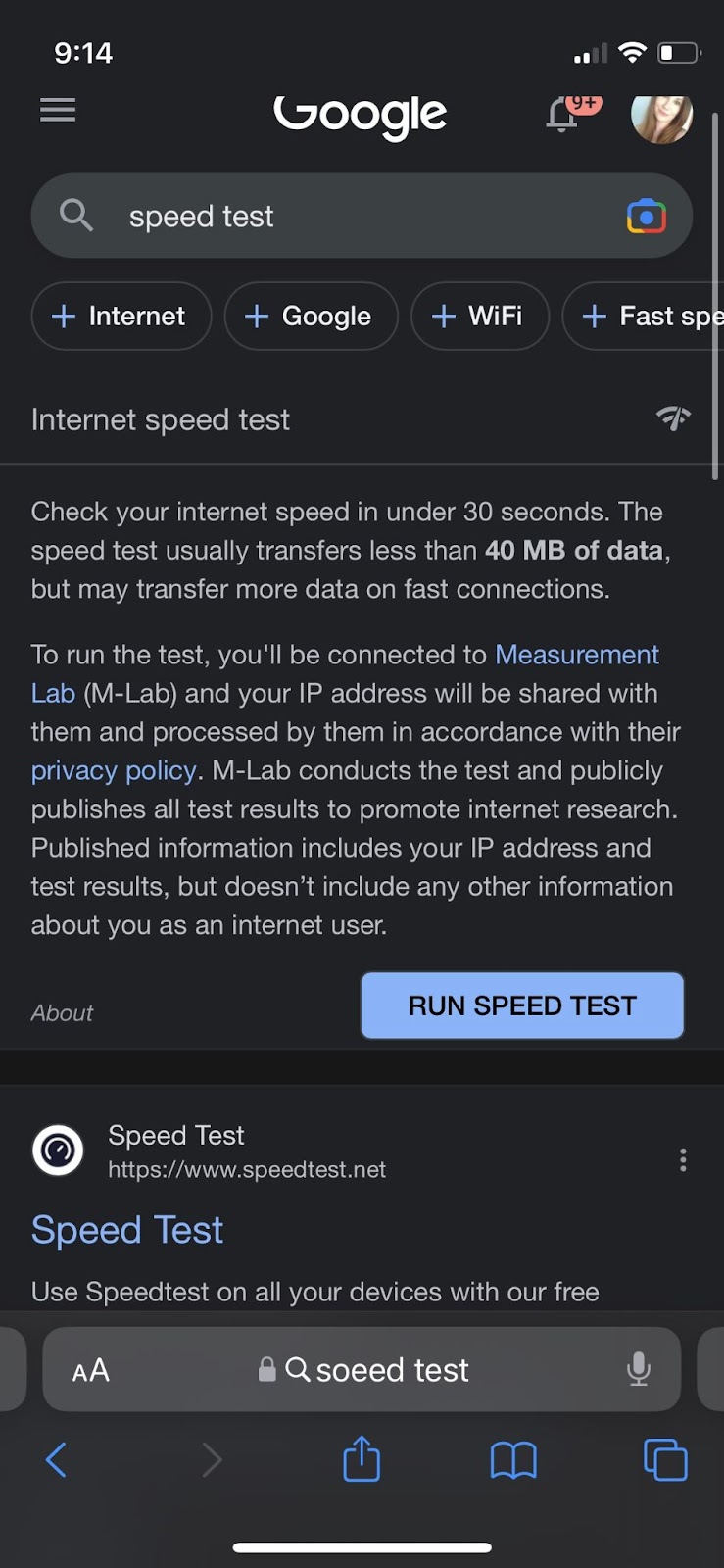 If the speed test takes a long time or shows that your connection has low upload speeds (<5 Megabits per second) or high latency (>150 ms), then you might have issues uploading to Instagram Stories. 
NOTE: If you're having a Wi-Fi issue and trouble connecting to a network, we have an in-depth tutorial to address this problem too. Just click the link to see several possible solutions with step-by-step instructions.
2. Update the Instagram App
If you're using an older version of the Instagram app, updating it may fix the issue. To update the app, go to the App Store (for iOS) or the Google Play Store (for Android) and check for updates:
To update Instagram on an iOS device, follow these steps:
Open the App Store on your iOS device.
Tap the Profile icon in the top-right-hand corner of the screen.
Scroll down to the UPCOMING AUTOMATIC UPDATES header and search for Instagram in the list. Tap the Update button.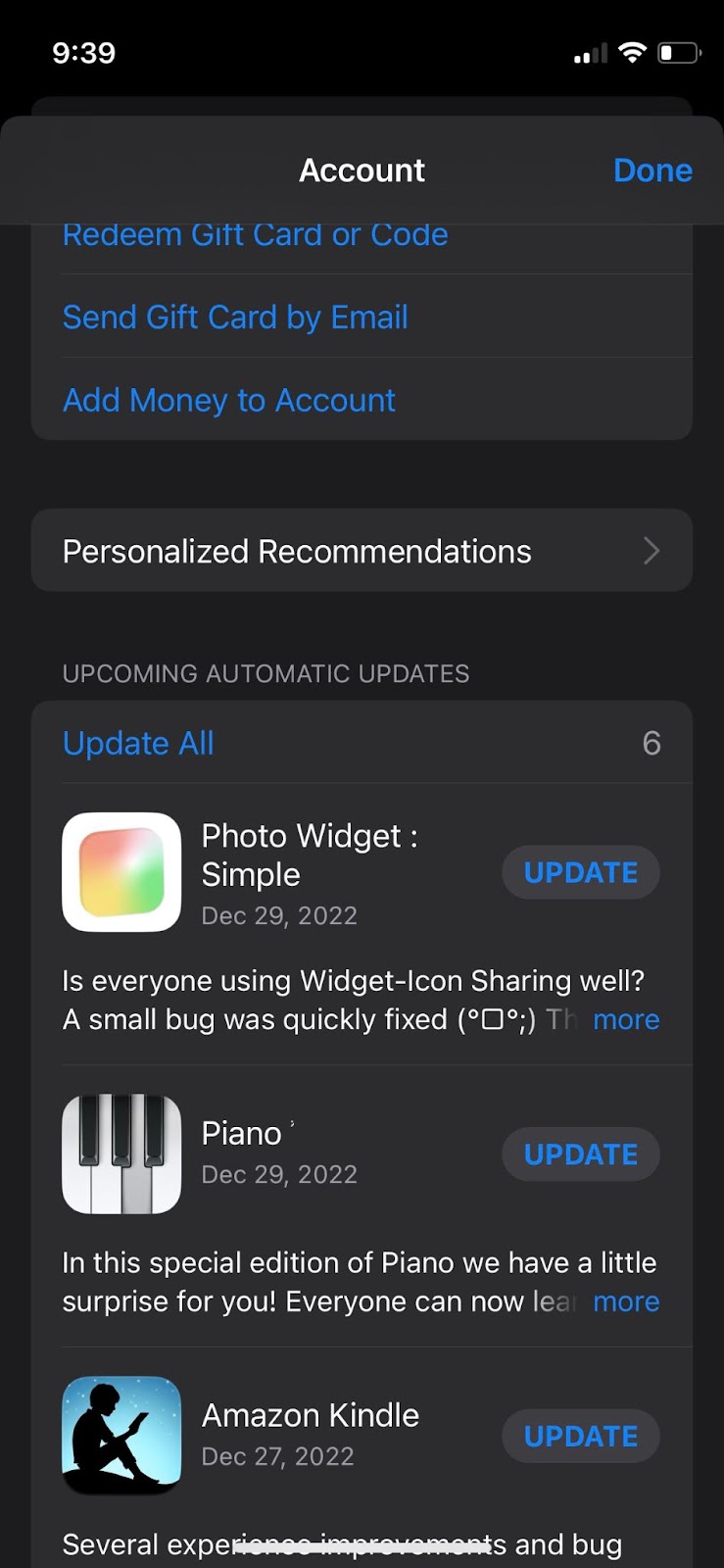 If there is no update available, the button will say Open. This means you already have the latest version of the app.
Alternatively, you can also update Instagram by searching for it in the App Store and selecting the Update button from the app's page.
To update Instagram on Android, follow these steps:
Open the Google Play Store on your device.

Tap on the three lines in the top left corner to access the menu.
Tap on My apps & games and then scroll down to the Updates section.
Find Instagram in the list of updates and tap on the Update button next to it.
3. Restart Instagram
Sometimes, simply closing and reopening the app can resolve issues with uploading stories. 
To restart Instagram on iOS devices:
Open the Instagram app on your iOS device.

Tap on the Home button at the bottom of the screen to go to your feed.
Swipe up from the bottom of the screen to access the App Switcher.
Find the Instagram app and swipe it upwards to close it.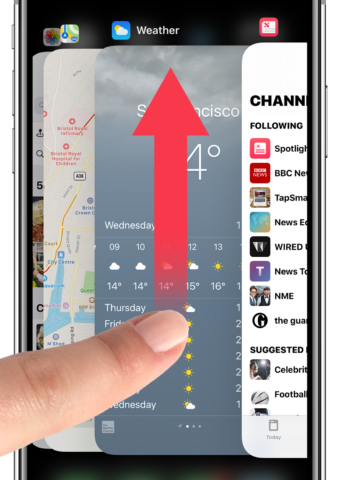 Then click on the Instagram icon to start a new app session. 
To close Instagram on Android devices:
Tap the recent apps button on your device (usually located on the bottom right of the screen).
Swipe right or left until you find the Instagram app.
Swipe the Instagram app up to close it.
Alternatively, you can also close Instagram by going to your device's Settings → Apps→ Instagram → Force Stop. This will close the app and stop it from running in the background.
4. Restart Your Device
If restarting the app doesn't work, try restarting your device. This can help resolve any issues with the device itself that may be causing problems with uploading stories. 
If you have any questions about how to restart your smartphone properly, you can search your device's model to find step-by-step instructions. 
5. Delete the Story and Re-upload It
If Instagram is stuck in a cycle of trying to upload your Story or is unable to complete the action after a while, you may need to delete the story and try to reupload it.
Follow these steps if you need help with this process:
Open the Instagram app and go to your profile by tapping the profile icon in the bottom right corner.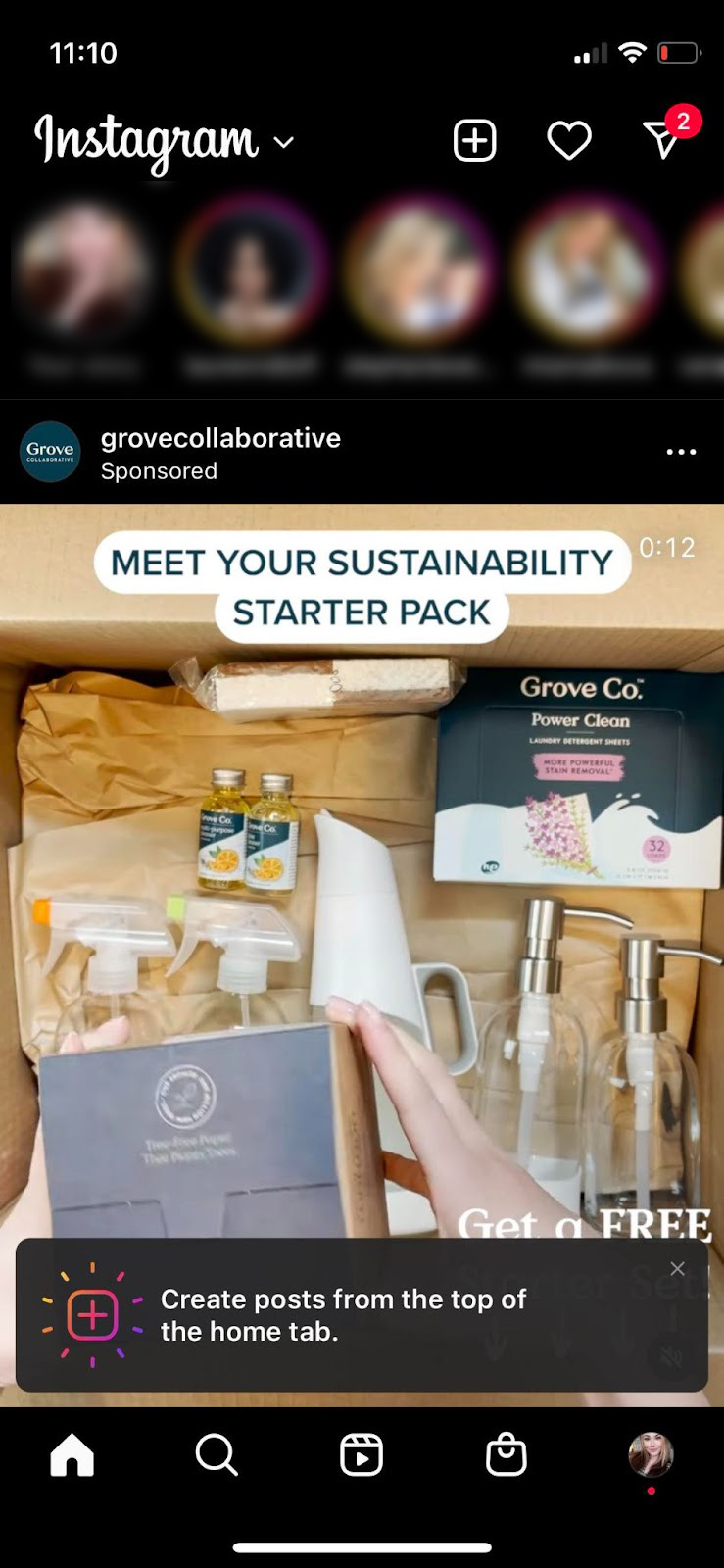 Tap on the circle icon in the top left corner to view your Instagram Stories.
Swipe left or right to find the Story you want to delete.
Tap the three dots in the bottom right corner of the Story.
Tap Delete from the menu and then confirm that you want to delete the Story.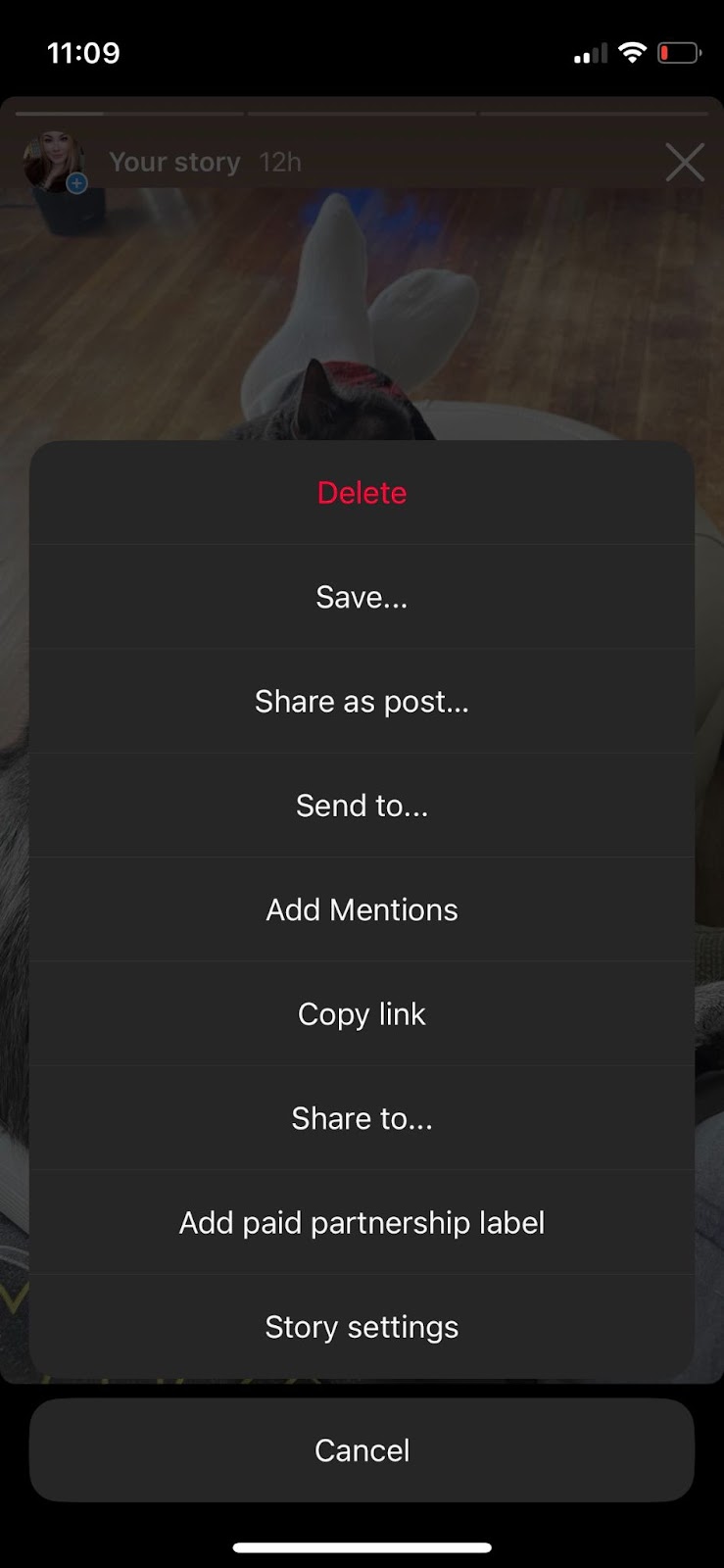 To re-upload the Story, tap the plus icon in the top center of the screen to create a new Story.
Choose the photo or video you want to re-upload from your phone's camera roll or take a new photo or video.
Edit and customize your Story as desired, then tap the arrow at the bottom of the screen and select where and to whom you want your Story posted.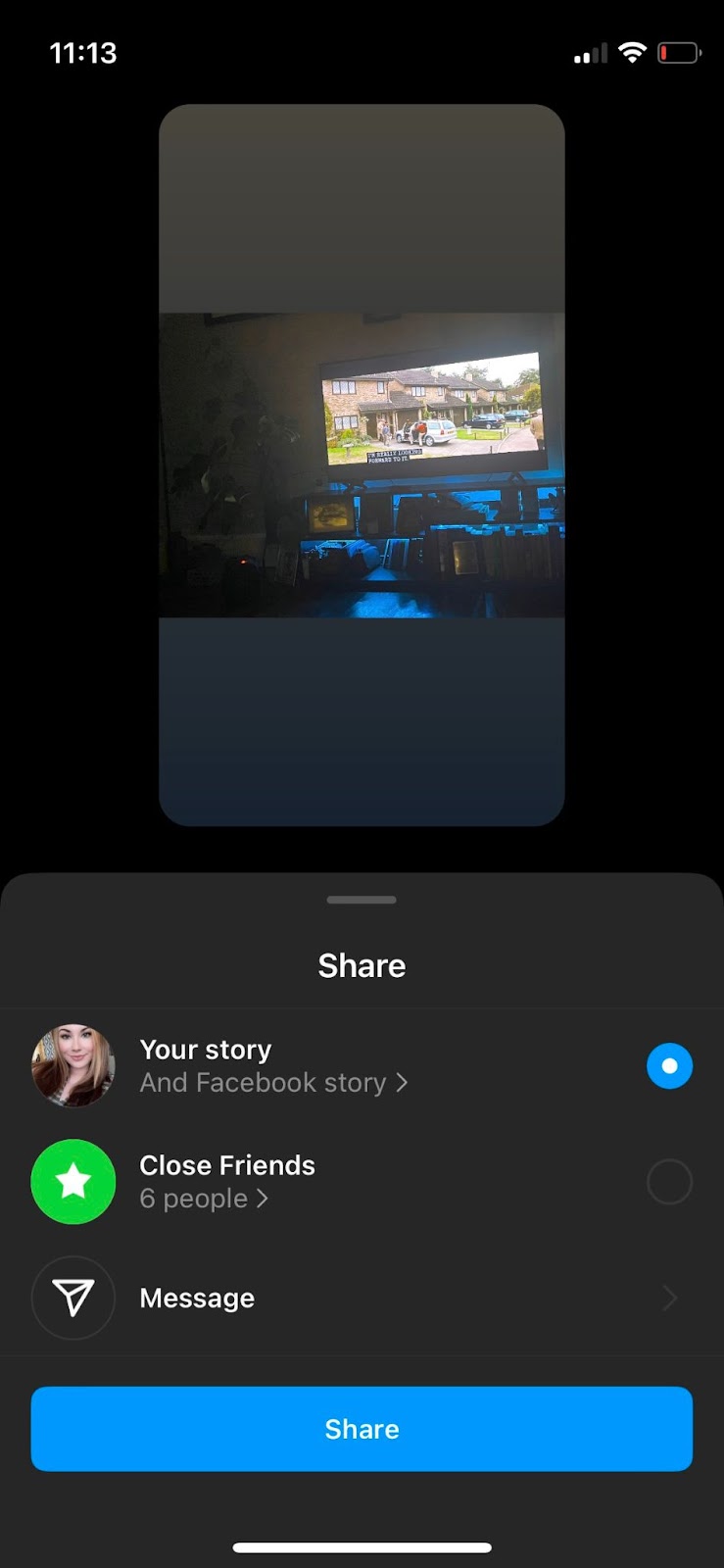 6. Clear Your Cache (Android only)
Clearing an app's cache removes temporary files and data that the app has stored on your device. This can help resolve issues with the app, such as crashes or slow performance, by freeing up space and removing any corrupt or outdated data. 
However, it is important to note that clearing the cache will also remove any saved preferences or login information, so you may need to re-enter this information after clearing the cache.
To clear the cache and app data on your Android device, go to the Settings app. Then tap on Apps or Apps & Notifications.
Select Installed Applications and find the email application that needs clearing its cache. Tap on the application to open the App Info page.
On the App Info page, select the Storage tab. Then tap on Clear Storage, Clear App Data, and/or Clear Cache.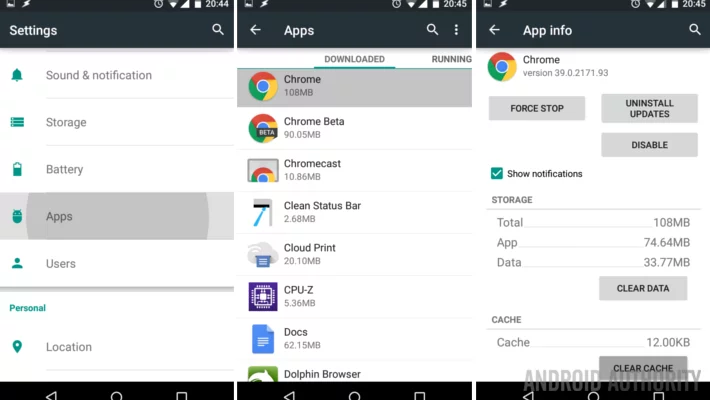 7. Check for Account Issues
If you've been banned or flagged by Instagram, it may cause issues with uploading stories. To check if your Instagram account has been flagged or banned, follow these steps:
Open Instagram on your phone or computer and log in to your account.

If your account has been banned, you will see a message that says Action Blocked when you try to perform certain actions, such as liking or commenting on a post.
If your account has been flagged, you may not see any messages or notifications. However, you may notice that your account's reach and engagement have decreased significantly.
If you are unsure your account has been flagged or banned, you can try contacting Instagram's support team through the Help Center. 
To do this, go to the Instagram app, tap on the three lines in the upper right corner, and select Help Center. From there, you can select Contact Us and follow the prompts to submit a request for help.
Resolved: Instagram Stories Successfully Uploaded!
Instagram Stories continues to grow in popularity. It is mainly due to its high engagement rate and for being a fantastic avenue for creators and brands to connect with their followers beyond reels and traditional posts. 
But as more and more people use the said feature, Instagrammers uncover issues along the way. One of which is Instagram Stories won't upload properly. These issues can be frustrating, but there are potential solutions, such as checking your internet connection, updating the app, or clearing the cache. 
Hopefully, one of the solutions outlined in this troubleshooting article will help restore your ability to upload Instagram Stories. That way, you can get back to creating and sharing content with your IG followers.