Hard drives are quickly going out of style in favor of the latest and greater technology, solid-state drives or SSDs, which are far more stable and significantly faster than HDDs. 
But many Windows users still have traditional hard drives, which, unfortunately, are susceptible to disk errors that can trigger a pesky screen during startup that reads: 'Repairing disk errors. This might take over an hour to complete.' 
Maybe you've waited an hour and don't know what to do next or have gotten past this error before, but it keeps returning. Either way, you can learn more about what causes disk errors, how to fix this issue, and how to move past this error screen.
What Causes Hard Disk Errors?
As already mentioned, hard drives are notoriously susceptible to all sorts of issues that can cause disk errors or complete hard drive failure. 
Hard drives have a spinning disk with a very thin magnetic coating. A 'head' passes over the disk and writes or reads data. During operation, the head sits less than 5 nanometers from the disk's surface. If the hard drive is bumped, it can result in a catastrophic head crash where the head contacts the disk and damages the drive. Here are some other causes of HDD issues and errors:
Hardware Failure – All hardware is subject to failure no matter how well it's manufactured. If the hardware components stop functioning correctly, the drive can stop spinning, or the head may crash.
Overheating – If your hard drive is overheating regularly, this causes thermal expansion of the disk platter, which may distort the magnetic surface and corrupt data.
Power Surges – Power surges or losses can interrupt the stream of power and cause the head to damage the disk platter. It's important to keep your computer plugged into a power strip with surge protection at all times, but this won't always protect against these issues.
Human Error – Maybe you forgot how sensitive HDDs are and tried to move your computer while it was running. This can cause head crashes or other damage. Or maybe you accidentally deleted critical system files. 
Water Damage – Keep all drinks and other liquids away from your computer. Hard drives are not built to protect against water damage and will likely experience issues after a spill.
How to Fix the 'Repairing Disk Errors This Might Take Over An Hour To Complete' Loop 
1. Wait It Out
Sometimes the most helpful thing you can do is wait for your Windows operating system to sort out the disk errors itself. This may take hours, but if you have the time or can leave the computer overnight, this can be a good option. 
Windows won't always be able to rectify the problem itself, and you may come back in the morning to find the loading wheel still spinning, but it has worked for other users.
How long does repairing disk errors take? How long should I wait?
Repairing disk errors can take your computer a long time if your disk is large and full of errors. While it takes 10 to 15 minutes in most cases, if your computer has already exceeded the one-hour mark, you may be in for the long haul. It can take 4-10 hours to repair some drives. 
Once again, if you have the patience and you do not immediately need access to your computer, it's often just best to wait at least overnight before proceeding to the next solution.
2. Remove All External Hard Drives
It seems that sometimes external hard drives interfere with the Windows operating system in unexpected ways. Your computer might mistake an external hard drive for the boot partition. 
When your computer starts and tries to load using the hard drive, looking for the Windows operating system boot files, it will crash when it doesn't find what it's looking for. The computer may automatically restart and crash again. Eventually, your computer realizes there's an unknown disk issue, triggering the "Repairing disk errors. This might take over an hour to complete." window. 
If you have any external hard drives connected to your computer, first turn your computer off and then disconnect all drives. Restart your computer and see if it boots normally. If it does, you may need to plug the drives back in one by one, restarting the computer afterward to track down which external device is causing the issue.  
3. Run Startup Repair
Windows has many built-in tools to assist users. Startup Repair is another one of those useful tools that you are going to learn to use today. This Windows recovery tool can fix boot issues that keep your computer from starting. It's not a comprehensive tool and, as such, often fails to fix the problem. But it's a good option with no downsides to trying. 
Because your computer gets stuck on the "Repairing disk errors. This might take over an hour to complete" during startup, you'll need to enter Safe Mode by tricking the system to access Startup Repair:
From off, start your computer. When the computer is booting, hold the power button or unplug the power cable to quickly shut your computer back off. Repeat this 3x. After the third failed attempt to fully boot into Windows properly, your computer will automatically load into Automatic Repair mode.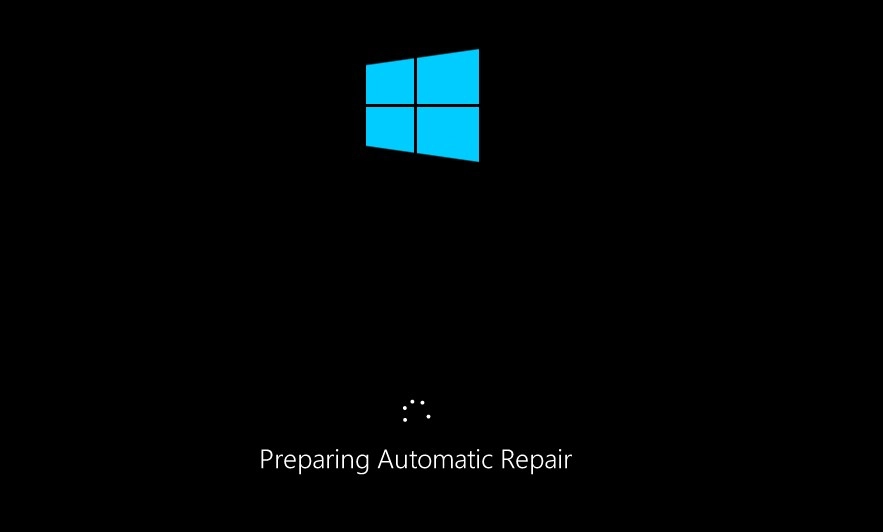 You will be prompted with the Your PC did not start correctly message. Select Advanced options to continue into the Automatic Repair menus. 

Under Choose an option, select Troubleshoot. Then from the Troubleshoot page, select Advanced options.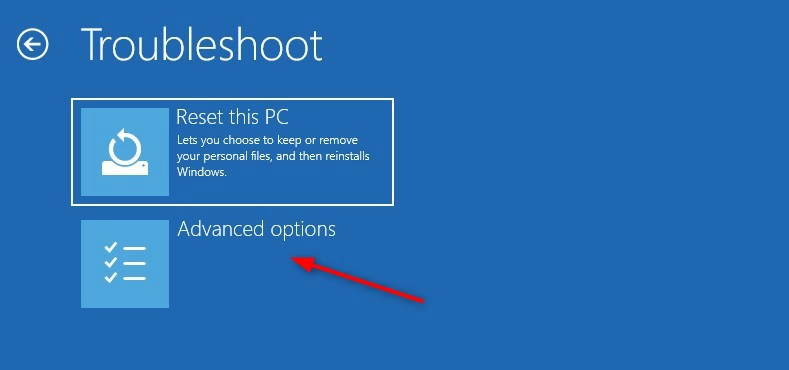 From the Advanced options page, select Startup Repair. Allow the Startup Repair process to finish. If the issue is resolved, Windows will automatically restart the computer so you can fully boot into your device. If the issue is not resolved, you may see a message saying Startup Repair failed. 
4. Run CHKDSK Utility
If you've waited overnight, removed any external hard drives (or didn't have any, to begin with), and tried Startup Repair without success, it's time to start taking serious action to solve the problem. 
Thankfully, Windows has a useful tool for finding and fixing disk errors called the Check Disk (CHKDSK) utility. This is another time-intensive option, so plan for your computer to be down for even longer. CHKDSK scans the file system and metadata, looking for issues with the integrity of the data or files. 
You are going to use the first few steps from the Startup Repair solution so that you can get set up within Safe Mode, so you can use Command Prompt to run the CHKDSK utility:
Follow steps one through three (1-3) of the Startup Repair solution listed above. 
Now on the Advanced options page, look for and select Startup Settings. From the menu, enter number 5 to select Enter Safe Mode with Networking.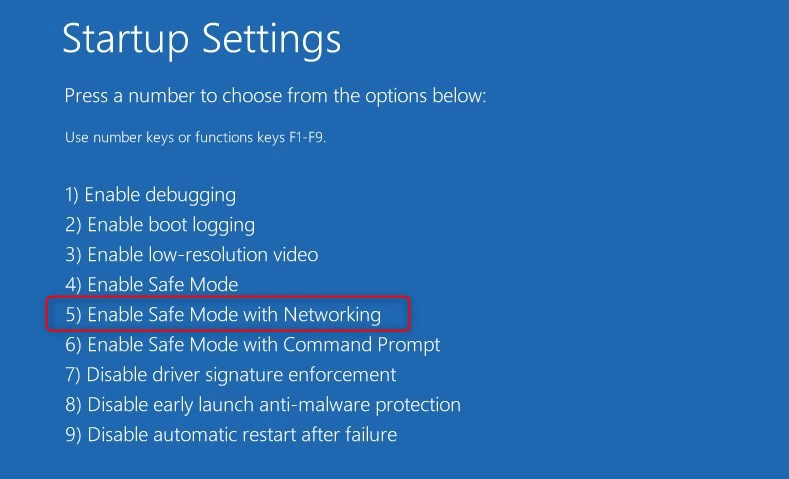 Now your computer will restart and automatically boot into Safe Mode. Press Windows Key + R to open the Run program. Enter cmd into the search bar and press OK.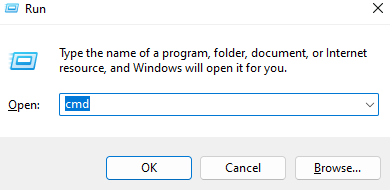 You can now finally run the CHKDSK utility from Command Prompt. Type the following command and then press Enter:
chkdsk /f C:
Allow Check Disk to complete its full scan, which may take a few hours. CHKDSK will check the C drive and attempt to fix any disk errors it finds. When the scan is complete, you can shut your computer down and attempt to restart to see if the "Repairing disk errors. This might take over an hour to complete" window is gone. 
The CHKDSK utility tool is very helpful in troubleshooting various hard disk drive issues. One of which is the "The disk does not have enough space to replace bad sectors" error. In case you have or will encounter this issue in the future, we have an article dedicated to addressing it. 
5. Revert to Earlier System Restore Point
System Restore is a vital tool that helps users recover from critical computer issues. By default, it is set to create restore points once a week or anytime you install a new application. If this is the first time, you've seen "Repairing disk errors. This might take over an hour to complete." then reverting to an earlier System Restore point might help resolve this issue. 
This feature essentially resets your computer and its entire filesystem back in time to the point that the System Restore point was created. Anything that has been installed or any drive errors since the Restore point will be wiped away. Follow these steps to try this solution:
Start by launching your computer into Safe Mode as done previously in the solutions listed above. Then follow steps one through three (1-3) from the Startup Repair solution. 
Now that you're on the Advanced options page, find and select System Restore. Then select your Windows 10 account and enter your password. Press Continue.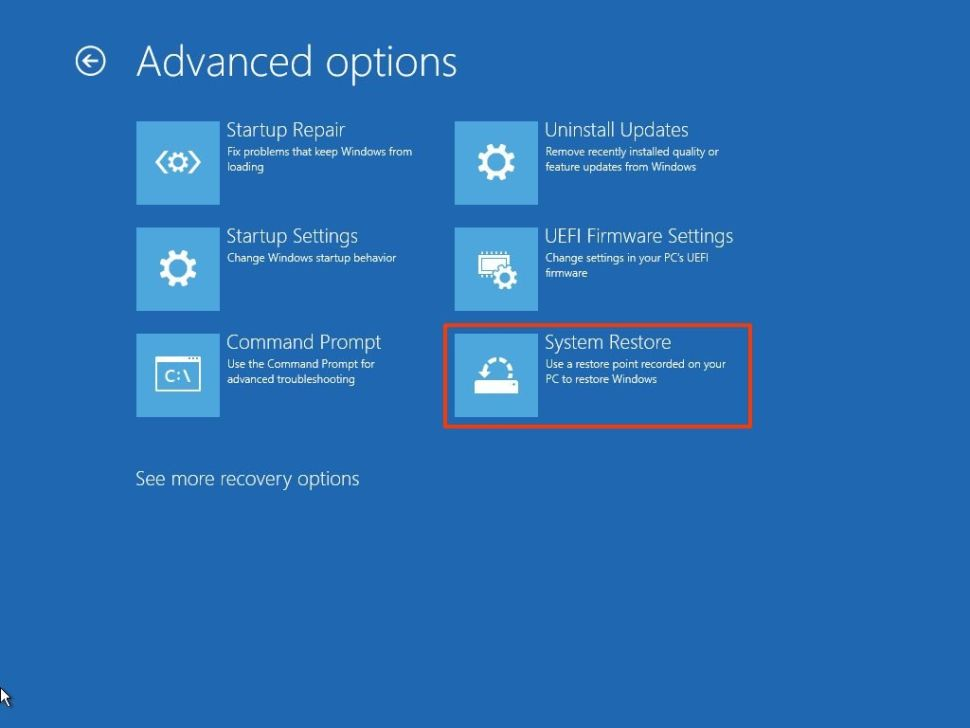 From the list of available System Restore points, select the Restore point you would like to use. It's best to go back as far as you are comfortable going, recognizing you will lose any data or changes between the restore point and now.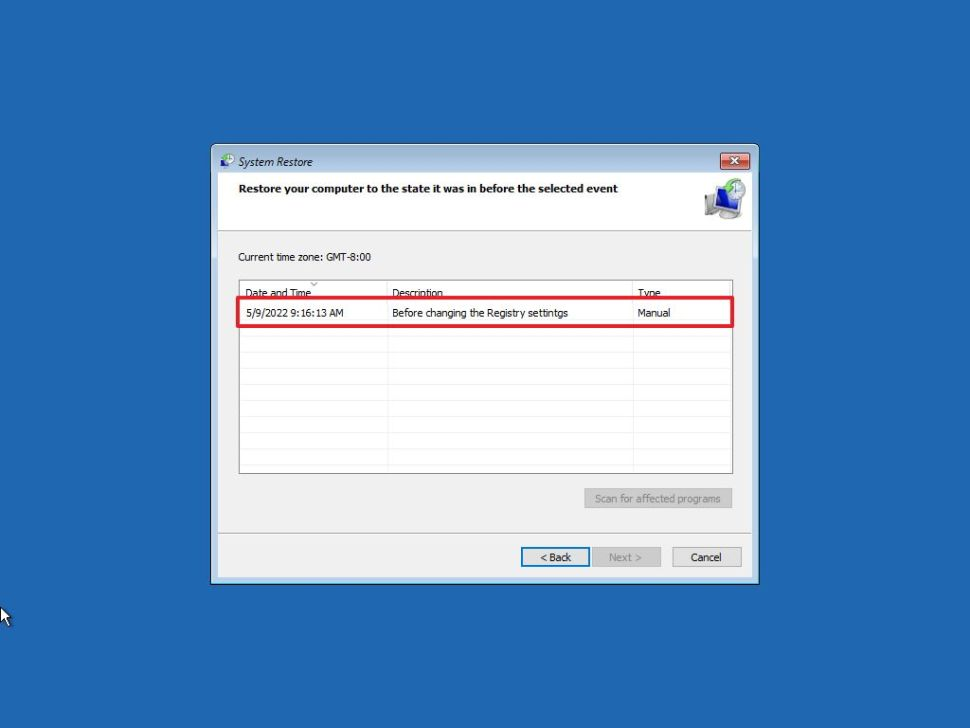 Once you select the Restore point, you can click the Scan for affected programs button, and it will provide you with a list of the applications that will be removed because they were installed after the Restore point was created. Close that window.

Click Next to proceed to the Confirm your restore point page. Then click Finish to start the restore process.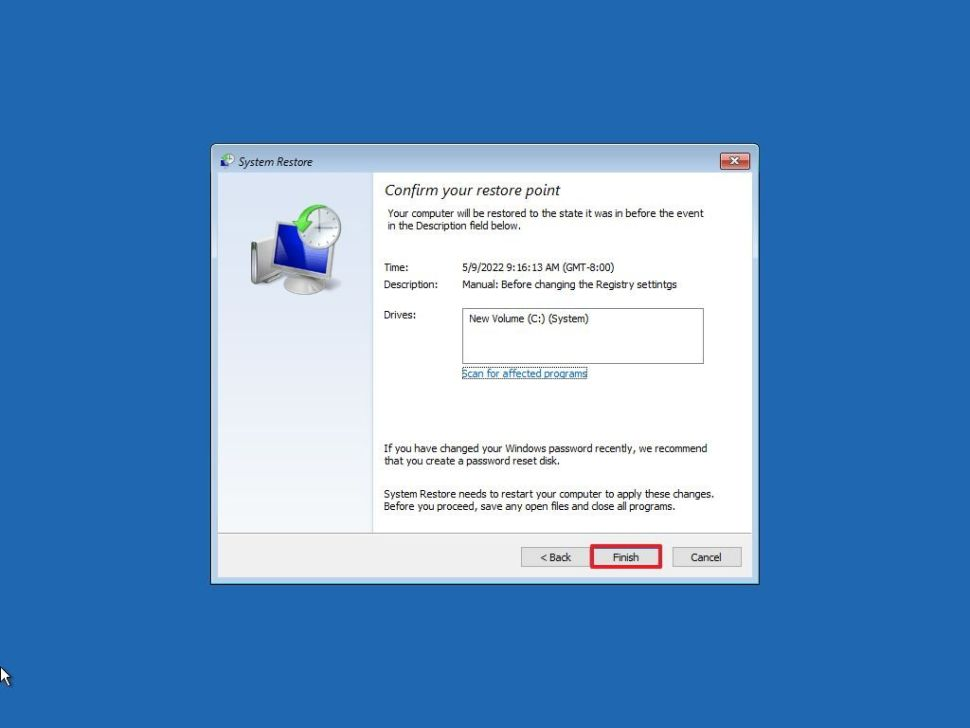 Allow Windows time to revert your computer back to this restore point. Then check to see if the "Repairing disk errors. This might take over an hour to complete." window reoccurs. 
6. Check and Replace Your Hard Disk
If you're still stuck on repairing disk errors at this point, it may be time to consider replacing your hard drive. You can use this as a chance to upgrade to a modern option, an SSD, or you can replace it with the same type of HDD. SDDs aren't very expensive and are very much worth the cost, but do your research to ensure that an SSD is compatible with your motherboard. 
Resolved: No Longer Stuck on the "Repairing disk errors. This might take over an hour to complete." Screen
To sum up what we discussed: If your computer is still using a traditional HDD, it's important to be careful to avoid damaging it. Keep all liquids away from your computer, never move it while it's on, keep it plugged into a power strip, and keep your computer in a room with a comfortable temperature. 
If you're encountering the "Repairing disk errors. This might take over an hour to complete." issue, try to wait overnight to see if Windows resolves the problem on its own. If that fails, you can start removing external hard drives and using helpful tools like Startup Repair, CHKDSK, and System Restore. Worst case scenario, your hard drive is unrecoverable, and you'll need to replace it.